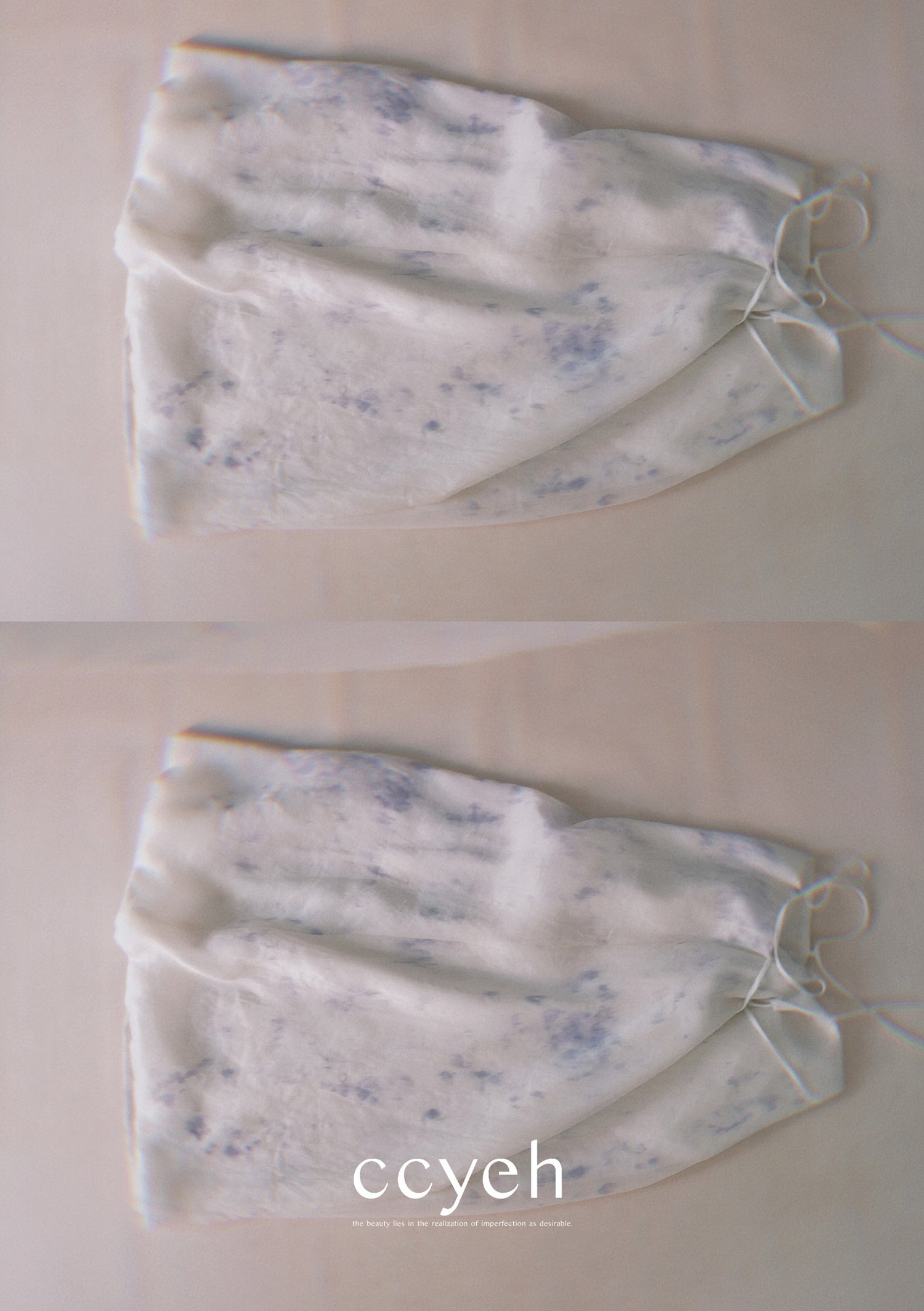 concept
ccyeh, based in Taiwan, all project created by hands. A conceptual art form of clothing with emphasizing the value of hidden beauty. Core of the creation for both contemporary aesthetic and natural dyeing with impermanence attitude to recapture the spirit and quality of imperfection philosophy. Accept the flow of the body, the essential nature between bodies and garment itself. The aim is to encourage longevity through changing the beauty standard that incorporates imperfection as philosophy.
台灣獨立設計師手工服裝品牌,所有項目皆由設計師和在地職人手工創作製成。
品牌以結合當代美學與天然草木染為創作核心,藉無常之態度重新捕捉不完美的哲學。
潦水盡而寒潭清,煙光凝而暮山紫,以藝術形式之服裝為媒介,透過反思、對話、靜心來強調身體和布料肌理之間的本質,並詮釋低調、內斂與寂靜來喚醒女性對自身尋夢的初衷。
natural dyes

ccyeh is full dedicated into natural dyes, as being part of her inspirations. All dyeing materials and textiles are through her hands. She utilized the dry flowers and steam-dying skill to create the prints as one method for designs, the unpredictable stains and flaws might be shown on her works, still, she wants to point out this natural uniqueness, and elevate the flaws to accept the natural consquence.




imperfection

ccyeh talks about the imperfection philosophy, compared to the western preference for perfection, symmetry
and finality, the eastern culture is more appreciates the uncontrolled nature and focuses on the humble reality, the impermanence of life. 'imperfect, impermanent, and incomplete', it is what makes things unique and special, as ccyeh uses the term 'potential beauty' to claim that beauty lies in the realization of this imperfection as desirable.

aesthetic

The social media delayering the diffusion of aesthetic between the shifters and the receivers. Thus, to change the beauty standards, independent thought is needed. If popular aesthetics bring people the idea of perfection, can imperfection be elevated through breaking the popular patterns ?
sustainability

In today's society, mass production and consumption have caused lots of issues, and consumption lower the emotional value in products which leads to wasted consumption culture. However, awareness of the need for change has been awakened, sustainable fashion is a green concept that is going to affect consumer's behavior to furthermore support the change of creative process and design thinking as long-lasting garments are needed both today and in the future. As a result, ccyeh be called upon to bridge the gap between idea and practice, to link artistic and creative elements with practical and realizable outcomes.

seasonless & long-lasting

ccyeh draws inspiration from a better future and invest in ensuring her works has little impact on the environment.

She takes responsibility for prioritising natural textiles in the works we make and working in a manner that is enlightened and intimate. As a result, ccyeh projects are designed to last for decades.